Yesterday, I was researching hotel options for Sana'a. There is a newly built Mövenpick hotel and Mercure in the city in addition to a Sheraton hotel.  When I was trying to find out the price for the Sheraton, it appeared to be sold out for every foreseeable day.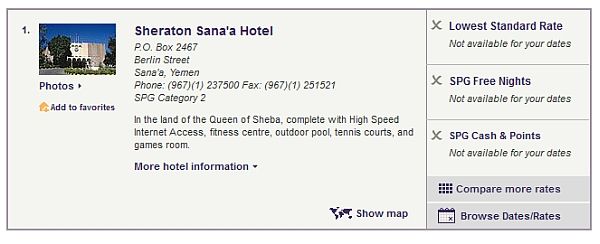 When I was Googling around, I came across the following article on the Washington Post. Apparently, the hotel had been taken over by US State Department already for more than a year and it is being reflagged on January 1st, 2013. Some diplomats, referenced on the Washington Post article, were not too happy about this recent development.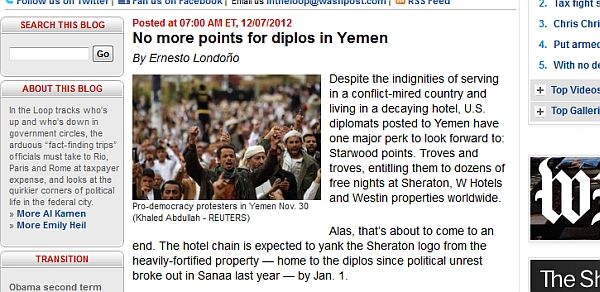 Although the hotel had been used entirely as housing for the US diplomats, they had been eligible for stay and nights credits as well as Starpoints for their stays paid by the US government. Now, when the hotel is dropping the flag, they are no longer eligible for Starpoints.
Conclusion
It appears that this specific Sheraton hotel is in not so good conditions, so it is probably better for the US State Department to take over. In is interesting, that it has been used for diplomat housing for quite some time and that the diplomats have been able to earn Starpoints at the same time.