The February top hotel promotions is almost a rehash from the January one. Here are my top five picks for February.
You can check all the other promotions that these chains are offering by clicking the Hotel promotions tab and choosing your preferred chain. I have some other program related information listed there as well.
1. Marriott Spring 2013 MegaBonus for Free Night Certificate After Every Two Stays (max 3 certificates)
You can earn category 1-4 free night certificate for every two stays that you have. This promotion is maxed at 3 fee night certificates after 6 stays.
Marriott Rewards MegaBonus 2013 February 1 to April 30
2. Starting Fresh with Priority Club and Signing Up For One Time Bonuses
It is time of the year when many are looking to explore some new hotels and their programs. I think that Priority Club is still quite good IF you can have a fresh start. You can sign up for instant Le Club Accorhotels status and then do a status match to Priority Club Platinum.
Sign up for the all one time bonuses and have five stays to hit stay bonus. You should earn 30K to 40K Priority Club points in just five stays. You can also do some quizzes about the program and earn 1400 bonus points.
3. SPG Triple Play: Power Up + Le Meridien Bonus (North America) + Air Canada Aeroplan bonus (Canada)
You can make a bundle with Starwood if you can take advantage of the Power Up and Le Meridien promotions that Starwood is running concurrently. Also, there is additional bonus for Aeroplan miles for stays in Canada. For maximizing these three bonuses, you need to stay at the Le Meridien hotel in Montreal!
4. Club Carlson Triple Points
You will earn 60 Club Carlson Gold Points per dollar spent (20 base + 40 bonus). This is before any elite or online booking bonuses. Not bad.
5. Best Western Free Night Certificate After 3 Stays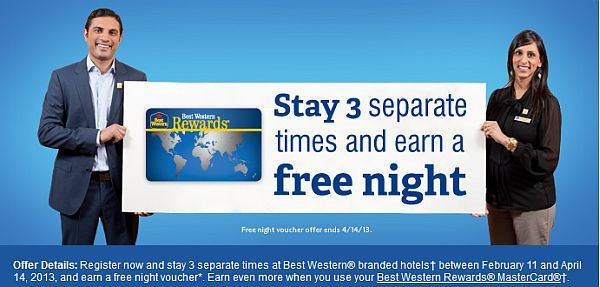 Best Western Spring 2013 Promotion: Free Night Certificate After 3 Stays or Double Aeroplan Miles
Conclusion
There are no groundbreaking promotions this month. My personal favorite is the Marriott one for free night certificates. If the usage limitation (category 1-4) works for you, it is by far the richest promo for one night stays.